Thai Restaurant Liverpool – Phi Thai
PHI THAI TAKEAWAY
PHI THAI TAKEAWAY
Dear all customers of Phi Thai Restaurant in West Derby Liverpool.
We are sad to announce that due to the ongoing Covid-19 pandemic, we will temporary close our restaurant but we open TAKEAWAY for COLLECTIONS but Friday and Saturday we do DELIVERY too.
TAKEAWAY for COLLECTIONS – start from 12 April 2020
Open: Wednesday – Sunday
Open time: 4.00 pm – 8.30 pm
Close: Monday – Tuesday
Notice:
For your convenience, to reduce your waiting time.
Could you please pre-order before your collection about few hours?
Also you can do pre-order on our day off (Monday and Tuesday) to collect on any working day (Wednesday – Sunday).
We would like to ensure our customers that we are taking all necessary measures regarding cleanliness and hygiene with strict procedure in place that you will receive your order safety.
We hope all our customers stay safe and healthy during this unprecedented time.
Kind regard of
PHI THAI RESTAURANT WEST DERBY LIVERPOOL
Phi Thai Restaurant in West Derby Liverpool is the perfect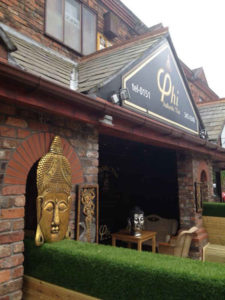 place to come here if your looking for the ideal adult place to dine. Place for a relaxed and charming authentic setting, without the city centre price tag.
Delicious Thai salads, soups, stir-fries, wok noodles, thai curries and char-grills, and thai (asian) inspired deserts, drinks and cocktails.
Phi Thai Restaurant & Bar sits at the very heart of the charming village of "West Derby" making it an ideal local neighbourhood restaurant. We are only 10 Minutes drive from the city centre with easy parking and the restaurant and staff provide for an excellent dining experience with one of the best atmospheres so feel free to join us…..
…… and satisfy Your hunger with healthty taste of Thailand at Phi Thai Restaurant . Here you will discover delicious Thai Food.
We also offer Thai Takeaway. Call and order.
Amazing Thai Restaurant in Liverpool with Real Thai Master Chef – PHI THAI
Authentic Thai food from

Phi Thai Restaurant
cooked by Chef Sura
Thai
Take Away Phi Thai
The same time we open our Restaurant we provide Thai Take Away service too.
Our Take Away Menu is the same as Restaurant Menu.

Phi Thai Restaurant in Liverpool